Specializing in authentic Polish grilled kielbasa and pierogies, the Old Traditional Polish Cuisine food truck caught my attention last week when they were parked in the World Financial Center North End Lot.
Polish Cuisine had a large number of customers either placing or waiting for orders, and the same was true Tuesday when I tracked them down in Midtown Manhattan.
That's when I learned, there's good reason why this Polish food truck gets so much business.
After several people ahead of me in line order the Lite Combo, I decide to do the same.
In roughly five minutes time, I got a lunch that literally made me go "WOW" when I opened the take-out container. For $10, I got way more food than I anticipated from something called the Lite Combo. And not only that… I couldn't get over how good my food looked.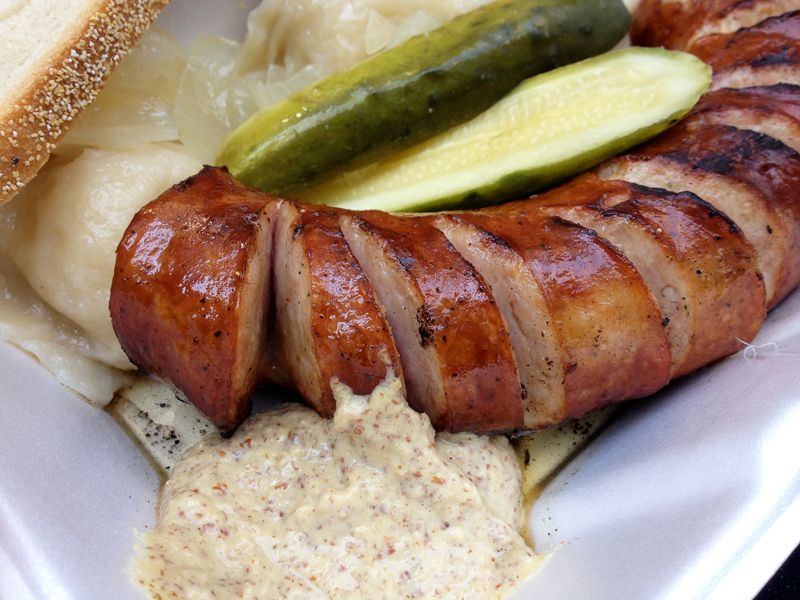 The star of this very filling lunch was the grilled kielbasa. I'm no expert when it comes to grilling sausage, but I thought it was perfectly prepared – crispy and crunchy on the outside… juice and flavorful on the inside. Simply awesome.
The Lite Combo also came with four potato and cheese pierogies. They were good, but I didn't enjoy them as much as the kielbasa. It's my own fault, though. As you may already know, I love some sort of texture or crunch in my food, and these appeared to be boiled… not fried or baked.
But don't get me wrong… the dumplings and cheese inside them were delicious – minus my desire for some crunch.
If you see the Old Traditional Polish Cuisine food truck in your neighborhood, you gotta give them a try. The kielbasa is outstanding, and they serve a beautiful plate of street food.
Polish Cuisine can be found around NYC by following them on Facebook and Twitter, or you can do what I did… check the daily Food Truck Roll Call at NYCFTA. 
Would I go back to Old Traditional Polish Cuisine? How could I not?! They grill a mean kielbasa. Snack Fixation? No. Would I tell a New York friend about Polish Cuisine? Maybe. If family or friends were in town from Ohio, would I drag them to Polish Cuisine? No. What am I ordering next time? The paczki! It's a Polish doughnut with a sweet filling. Pricey? No way. I got so much food for $10. Did I finish my soda or sandwich first? N/A. They only had bottles of water! They have to fix that. I would seriously consider passing up any food truck if I knew I had to make a second trip somewhere to get something to drink. I want one stop shopping for my lunch, please!

Share the post "Food Truck Friday – Old Traditional Polish Cuisine"