On my second trip to Dominique Ansel Bakery in March, I purchased three items – the Milk & Honey Cronut, a hot chocolate, and the Chocolate Pecan Cookie.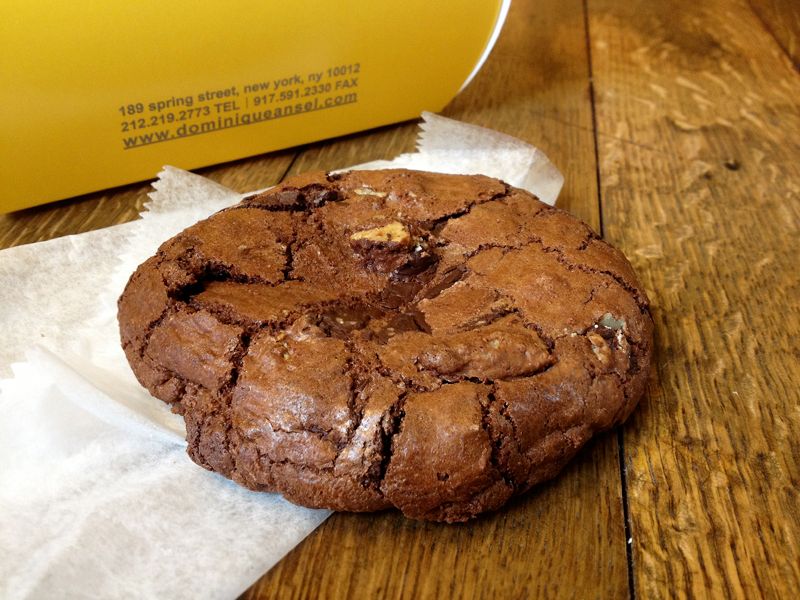 The CPC doesn't look that special next to all the other amazing creations inside the famous Soho bakery, but this might be one of the best cookies I've ever had. Not only that… after eating it for the first time, I was shocked to learn it's gluten-free!
It's like eating a brownie in cookie-form, but two-times better than you imagine. Look at it… the exterior reminds me of the top of a pan of brownies when there's that thin, delicate flaky layer lining the top… but thicker and crunchier.
Inside… it's soft and moist, and gave me the impression there's something molten inside… but there's not. It's a big awesome fake-out.
I've had the Chocolate Pecan Cookie four times now, and it is one of my favorite cookies, ever. I'm always think about when can I get another.
It's a obviously a must buy when I'm at Dominique Ansel Bakery or visiting the Soho or Tribeca neighborhood.
Dominique Ansel Bakery – 189 Spring St (between Thompson & Sullivan), New York, NY 10012; (212) 219-2773
Would I go back to Dominique Ansel Bakery for the Chocolate Pecan Cookie? Over and over and over again. Yes. Is the Chocolate Pecan Cookie a Snack Fixation? Absolutely. Would I tell a New York friend about the CPC? Yes. If family or friends were in town from Ohio, would I drag them to Dominique Ansel Bakery for the CPC? If we were in the neighborhood, yes. Otherwise, I would bring this to them as a Welcome to New York gift. Pricey? Not for how good it is. Anything else? Yes. 1) I'm not a fan of nuts in my cookies, but the CPC has the perfect amount of pecans. Maybe two or three per cookie. 2) I love everything I've ever had at Dominique Ansel Bakery with the exception of their hot chocolate.