"Never say never." That's how the saying goes, right? Well, it's appropriate for what I'm about to write.

After an unfortunate cashier experience at Clarke's Standard last month, I said – in my March 31st review – I'd never go back. Well, I'm happy to say I'm reversing that decision because for two reasons:
First… a very kind, apologetic and responsive Clarke's Standard representative, Mark K, immediately reached out to me after my review was posted. He apologized; explained this is not the type of experience his customers normally have; and said he would look into the situation. Also, he invited me back to Clarke's Standard and experience the food and service his customers normally enjoy at his busy Union Square location. Super cool of him.
Second… friends of my Snack Fixation Instagram account have left positive comment…. after positive comment… on the pictures (here and here) of my Clarke's Standard lunch. There was even a remark from a past customer expressing how her experience was the exact opposite of mine. She loved both the food and the service… and in particular… the cashier.
Thanks to this combination of factors, I decided to return to Clarke's Standard for a "do-over." Wipe the slate clean, and have lunch with them again.
And with this second visit, I got the experience I expected the first time. I had a professional yet friendly cashier, and a lunch I thoroughly enjoyed and left me wanting to come back for more.
I ordered April's Burger of the Month – the Crispy BBQ Bacon Cheddar Burger – along with an order of the Natural French Fries, a Coca-Cola and a cup of the Salted Caramel Ice Cream.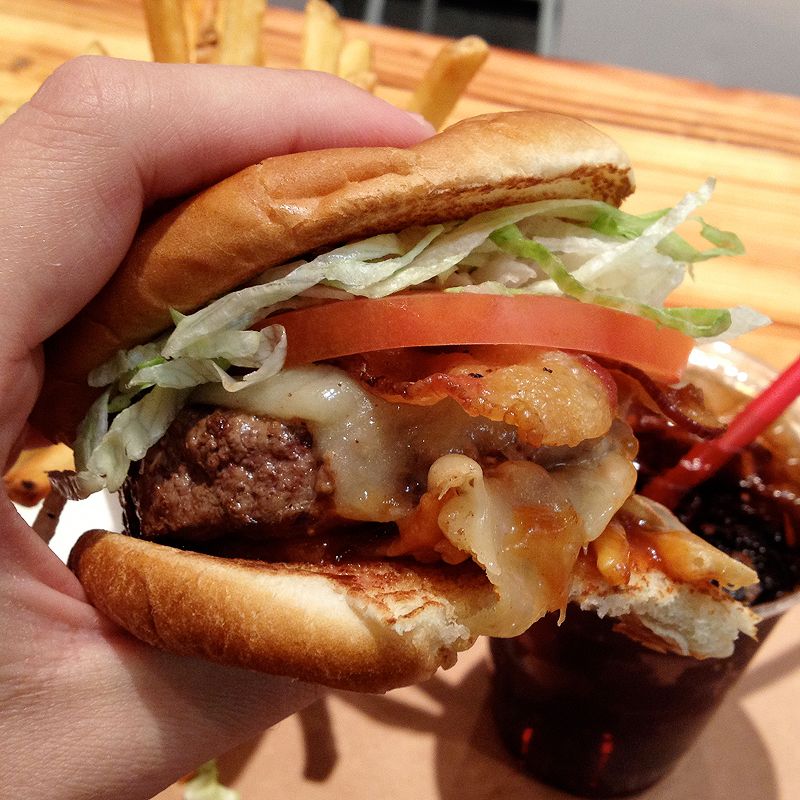 The burger was dressed with fresh lettuce, tomato, crispy onions and a tangy barbecue sauce.
It was messy and delicious, and attempted to slip through my fingers at times. I remember thinking, "Where do you think you're going? You're not getting away that easy."
Oh! Here's something I learned on this second trip to Clarke's. They make a true "medium". That means… their fresh, made-to-order patties come out extra juicy and pink.
I should be getting medium-well. I like my burgers juicy, a little pink, but with a bit of "char" on the outside for taste and texture. So from now on, I'll order accordingly.
As for the fries… I loved 'em. I was so annoyed (seeing red) last time over the cashier, I couldn't appreciate the Natural French Fries.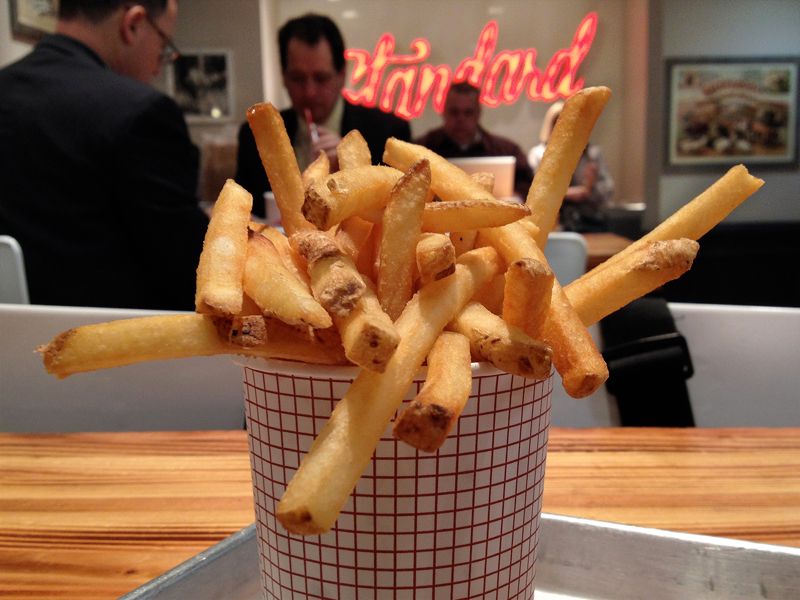 Matter of fact, I was writing notes about my experience while I ate. I reached over to grab a few fries, and sadly discovered they were all gone. I devoured 'em all, and debated whether to go back up for more.
That's a good sign, right?!
After enjoying the hot portion of my lunch, I went back up to the counter and picked up my cold, Salted Caramel Ice Cream Cup for dessert.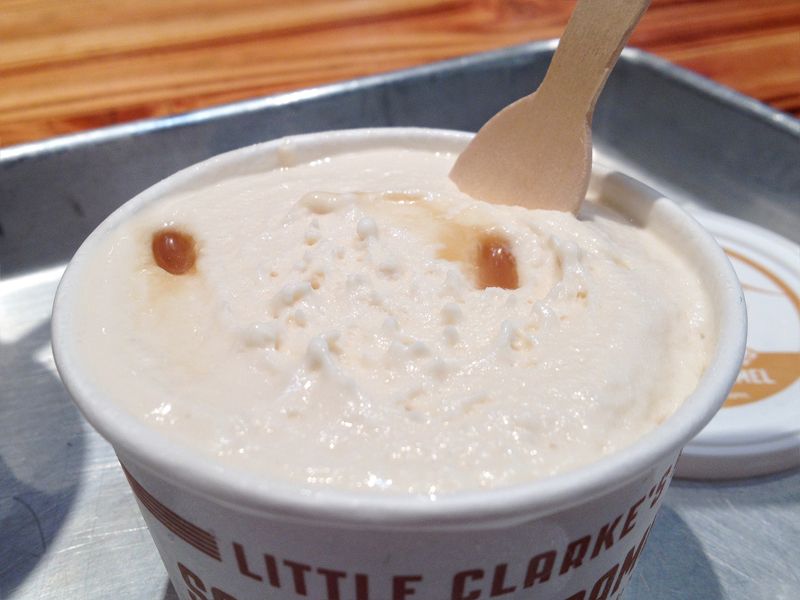 This little palate cleanser was really refreshing and nice. I look forward to following up my next lunch at Clarke's Standard with another ice cream cup – maybe the Mint Chip or Chocolate.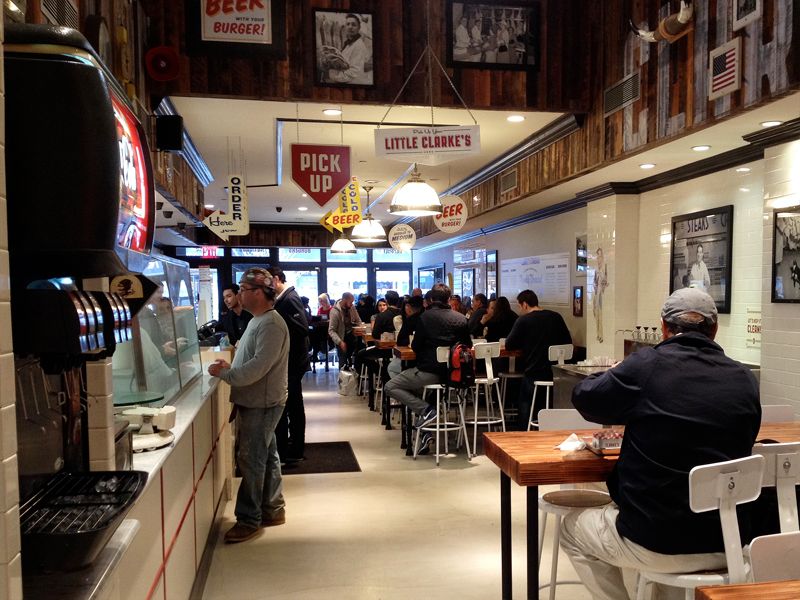 It's obvious to me now that my first trip was clouded by my encounter with the cashier. I really enjoyed my second lunch at Clarke's Standard, and look forward to returning in the future for another satisfying meal while listening to classic Doo-Wop and Motown tunes that remind me of my uncle back in Ohio.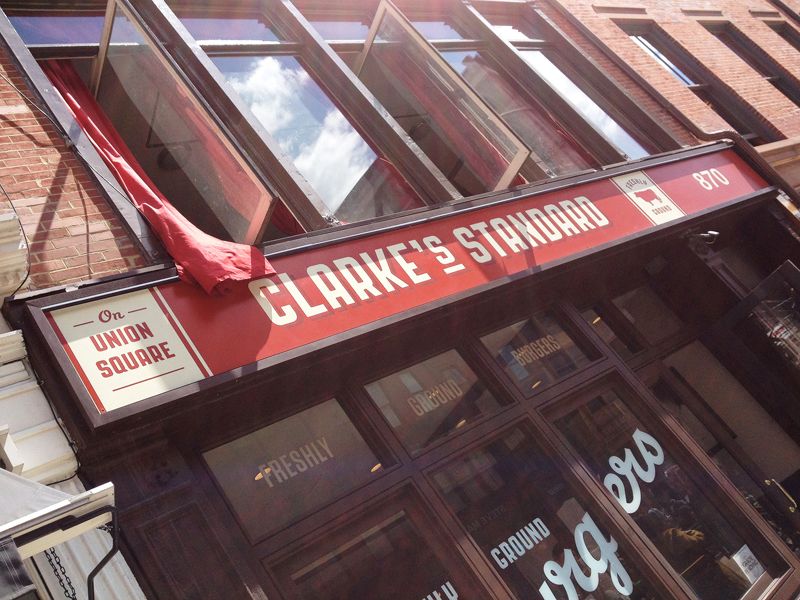 Big thanks to the hugely considerate and professional Mark K, and my Snack Fixation friends for influencing my decision to go back to Clarke's Standard. I'm thrilled I enjoyed the true Clarke's experience.
Clarke's Standard – 870 Broadway (between 17th and 18th Street); (212) 529 9100 

Would I go back to Clarke's Standard? Yes. Snack Fixation? Not yet, but I look forward to finding one on their menu. Would I tell a New York friend about Clarke's Standard? Yes. If family or friends were in town from Ohio, would I drag them to Clarke's? No. What am I ordering next time? I wanna try the Brooklyn Au Poivre again or the Green Chiles & Cheese burger. Pricey? It's reasonable for the city.