At the first of every month, Dominique Ansel Bakery introduces a new Cronut flavor. Last month was the Raspberry-Lychee. Sunday, I got in line around 8:35 AM for March's flavor-of-the-month – the Milk & Honey with lightly-scented lavender sugar.


The bakery opened at 9 AM… like it normally does on this day of the week. They let the first wave of customers in – which was about two dozen people – about 10 minutes later. I got to enter the Spring Street bakery in the second wave around 9:40 AM.
When I got inside, my place in line – this time – was towards the very back. It was there, I discovered a couple things.
One… there's a solarium and patio for additional seating – straight out the back door.
And two… there's a little room before that where Dominique Ansel bakers are still icing Cronuts! That's how fresh they are in the morning.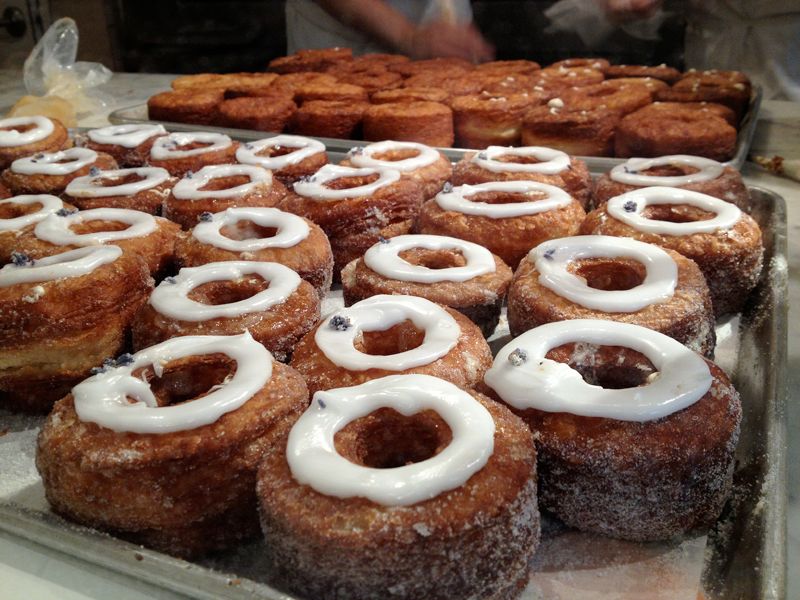 I felt like a little kid watching in amazement as the Cronuts were completed on the other side of the glass…
And dressed with their lavender accent.
Once I was through the line, I took my two Cronuts (the limit per one wait in line), hot chocolate and flourless chocolate pecan cookie (gluten free) to the solarium.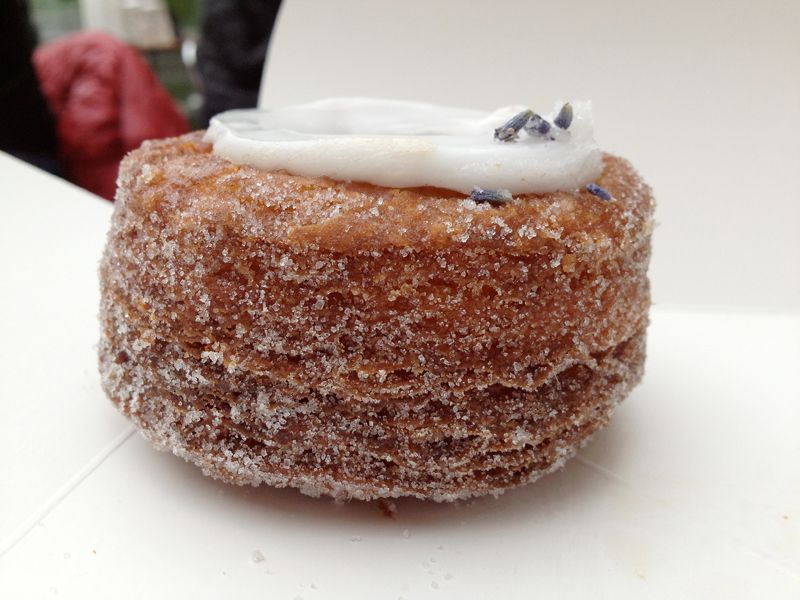 It was there, I took some pictures of my Milk & Honey Cronuts before one of them would meet their demise.
The other pastry's day of execution would have to wait until I got home, and could dissect it for a photograph.
I was skeptical whether the Milk & Honey – or any future flavor for that matter – could be better than my first Cronut experience – the Raspberry-Lychee, but March's flavor of the month was just as good if not better than February. It was exceptional.  
And the lightly scented lavender sugar was a deliciously, inventive touch.
Again, the Cronut proves to be worth the hype… and the wait in line.
If you plan on getting a Cronut in the future, be sure to read the Cronut 101 at the Dominique Ansel Bakery website. It was extremely helpful to me, and kept me from getting in line too late, and coming home empty handed.
Would I stand in line again at Dominique Ansel Bakery for a Cronut? Yes. Snack Fixation? Yes. It's official. I plan on going every month to try the next flavor Dominique Ansel comes up with.  Would I tell a New York friend to stand in line for a Cronut? Yes. If family or friends were in town from Ohio, would I drag them to Dominique Ansel Bakery for a Cronut? Yes. It's necessary for them to try it now in my opinion. It's history. We have the opportunity to stand in line, and eat a pastry in the first year of it's birth. Oh, how I wish I could travel back in time and do the same for pizza, the doughnut or pie.

Geesh… where have I been? Walking back to the Upper West Side the other night from Union Square, I discovered there's a Hill Country Chicken… since 2010?! I was familiar with Hill Country Barbecue because of their association with Madison Square Garden, but I had no idea there was a fried chicken spin-off as well.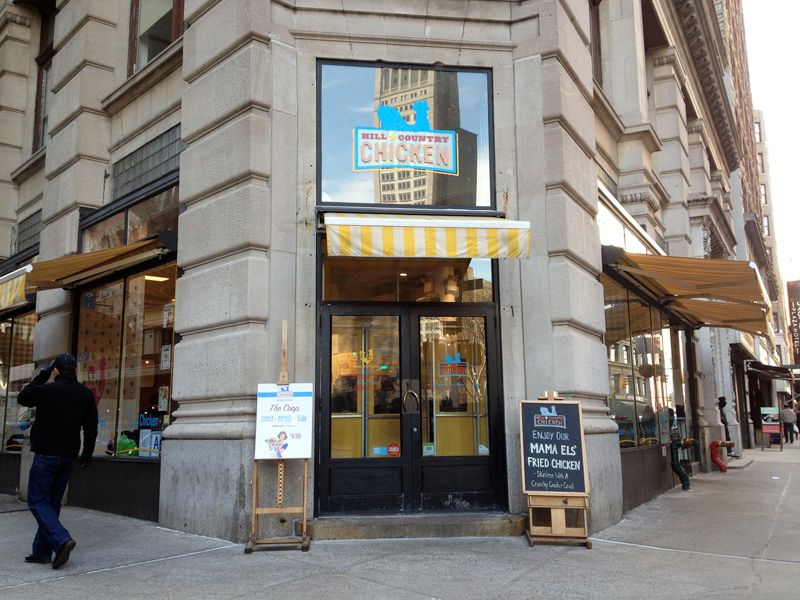 It's located at the corner of Broadway and 25th Street. Looking at their website, I see there's a second location in Brooklyn Heights.
I assume the Adams Street location in Brooklyn is also decorated like a country kitchen straight out of ANY WHICH WAY BUT LOOSE or SMOKEY AND THE BANDIT… which is more than fine with me.
It wasn't easy deciding what to order. I was certainly interested in the Texas Tenders, but I decided on the Classic Southern fried chicken.
How could I pass up the opportunity to pick the style AND the piece of fried chicken I'm going to eat? Is there another fried chicken restaurant in the city where I can do that?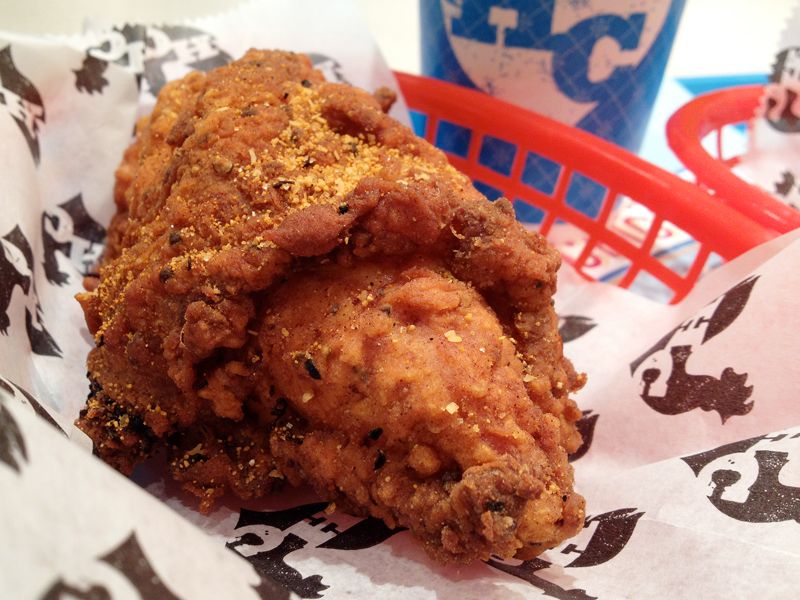 The breast of chicken I ordered looked liked it was deep-fried three times. It was gorgeous.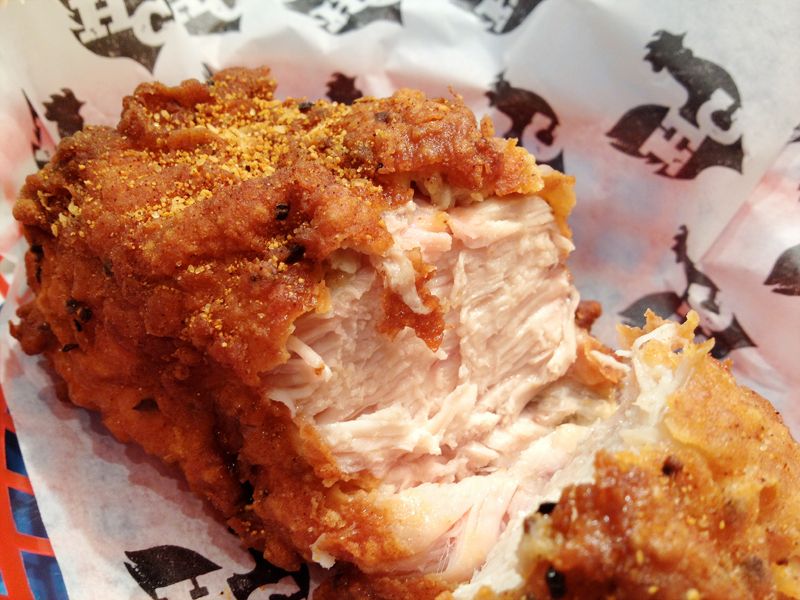 Eating that thick, crispy layer with the abundance of beautiful white meat  underneath was so satisfying good.
Along with the fried chicken, I order a side of the Cheesy Fried Mashed Potatoes – thanks to the gals recommendation behind the counter. She said, I wouldn't be disappointed… and I wasn't. I've had cheesy mashed potatoes before, but the addition of fried potatoes was pretty awesome.
I'm not the biggest fan, but Hill Country Chicken carries Boylan Bottling Company soda; however, I was excited with the ice machine inside the self-service fountain dispenser. It made my favorite type of ice – that small, crunchy pellet-sized ice I don't find very often.
Finally, Hill Country Chicken offers a selection of pies and mini-pies for dessert like it's barbeque counterpart. I had the Chocolate Pudding Mini-Pie loaded with way too many chocolate chips.
Overall, I had a really nice experience at Hill Country Chicken, and I look forward to returning. No doubt, I would have the Classic Southern fried chicken and Cheesy Fried Mashed Potatoes again, but I will most definitely try a different pie.
Would I go back to Hill Country Chicken? Yes. Snack Fixation? Not yet. Would I tell a New York friend about Hill Country Chicken? Maybe. If family or friends were in town from Ohio, would I drag them to Hill Country? No. What am I ordering next time? Probably the Cheesy Fried Mashed Potatoes again, but I might try the Texas Tenders instead of the fried chicken. Pricey? It's reasonable for New York. Did I finish my fried chicken or Boylan's cola first? The fried chicken. As I said, Boylan's is not my favorite.


In the last year or so, I've realized it's important to have a couple gluten-free recipes in my hosting arsenal. One of my go-to dishes is a Thai Chicken Skewer recipe I found, but I use Tyson Gluten Free Grilled & Ready Chicken Breast Fillets from Sam's Club.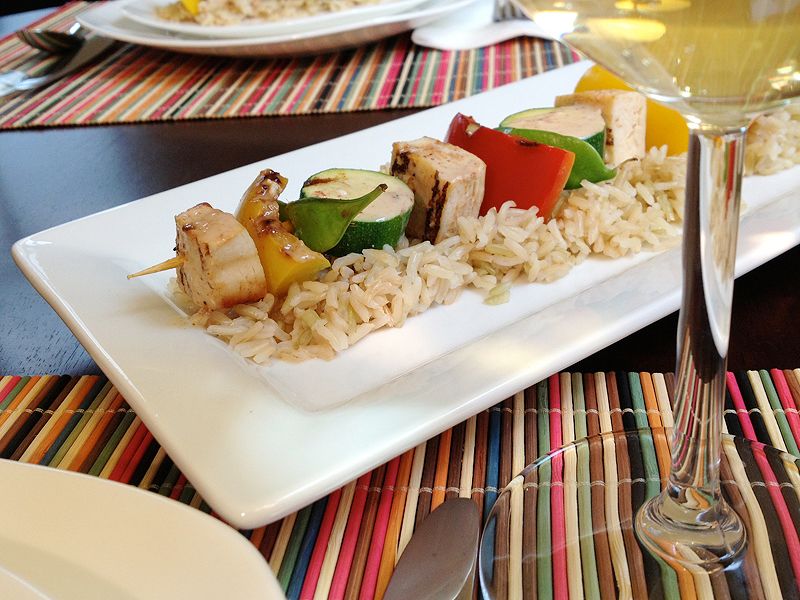 It's an easy gluten-free recipe that doubles as a dinner or a snack depending on what type of event I'm hosting. And the addition of Tyson Gluten Free Chicken cuts down on the preparation time because it's already fully cooked.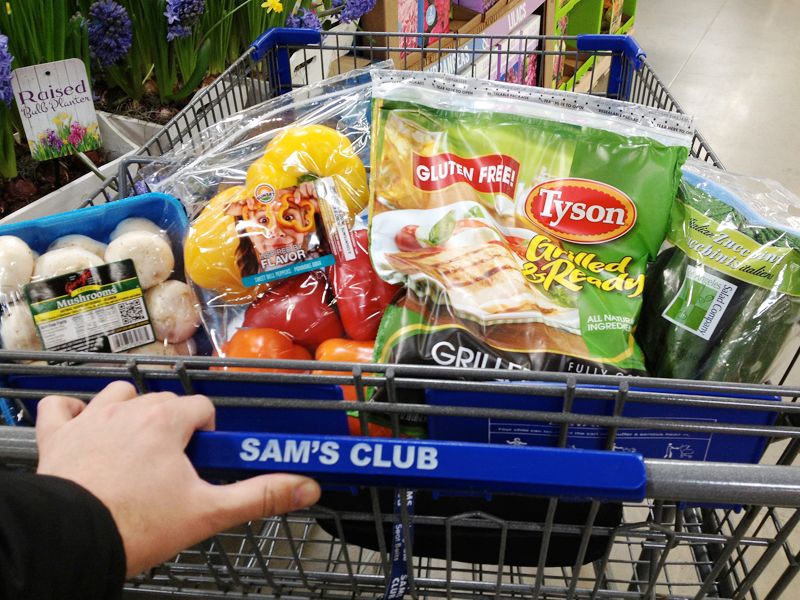 Most of the ingredients can be picked up at Sam's Club.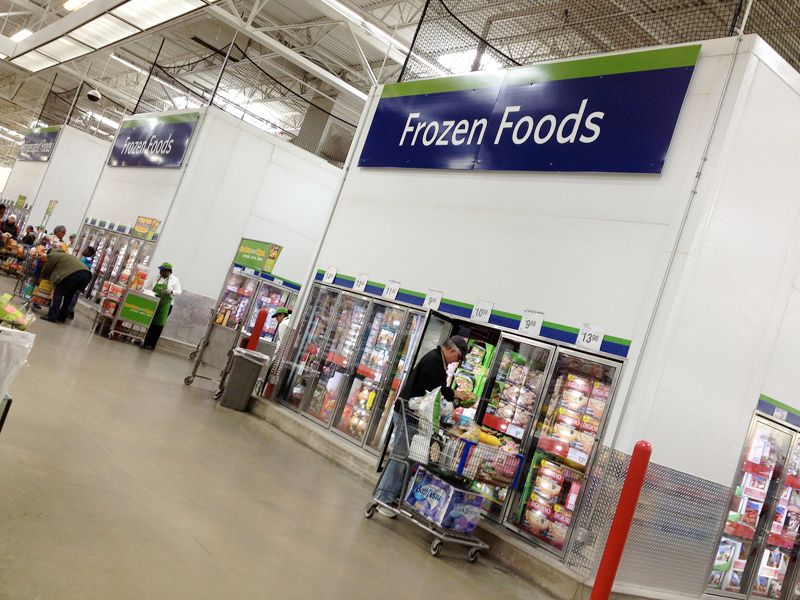 The Tyson Gluten Free Chicken Fillets are located in the frozen foods department behind the special showcase freezer doors facing the rest of the store… or in the frozen chicken section. Their location depends on which Sam's Club I shop.
As for the vegetables in this receipe, many of them can be plucked from the fresh produce section at Sam's Club as well. That's where I get my beautiful peppers, zucchini and snopeas.
Matter of fact, there's not much you can't get at Sam's… including fat.
Last time I was in the store, there was chocolate covered strawberries demo, and they were handing out free samples.
The demos are pretty fun and irresistible. Cooking stations are set up throughout the frozen food and produce departments.
This week, Sam's will host some tempting demonstrations on Thursday, March 6 and Saturday, March 8. They will prepare a special gluten-free chicken recipe using Tyson Gluten Free Chicken.
Click HERE for the list of participating stores.
Okay, getting back to the gluten-free Thai Chicken Skewers.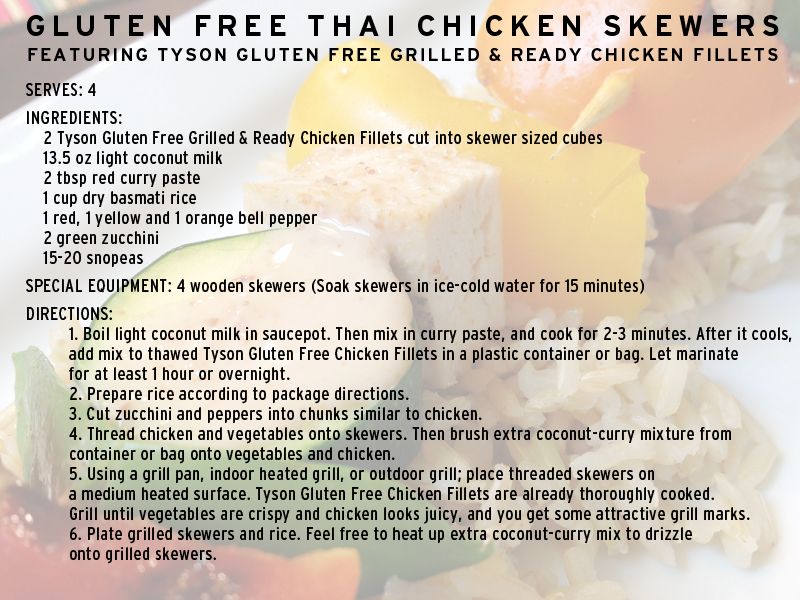 This recipe can be completed in roughly one hour after the gluten-free chicken breasts have thawed. Also, I normally let the chicken marinate in the coconut-curry sauce overnight.
That way, the chicken can absorb as much of the marinade as possible so I can serve a flavorful gluten-free Thai Chicken Skewer dish the next day to my friends and guests.
If you have any questions about preparing the Gluten Free Thai Chicken Skewers… the in-store demos at Sam's Club… or Tyson Gluten Free Grilled & Ready Chicken Fillets… leave me a message in the comments section below.
Also, what gluten-free recipes do you keep in your hosting arsenal? I'd love to hear some of them!
#CookItUp #CollectiveBias